I just bought a 6th card for my rig, but my PSU (EVGA SuperNOVA 1000 G3, 80+ GOLD, 1000W) only has 5 8-pin GPU cables. It has a spare cable with 4 molex connectors on it, however (the part plugging into the motherboard is 6-pin, but two if them are hollow).
I was wondering if I can just get a 2 molex to 8 pin adapter and use that to power the card instead. I've heard that each molex can handle 40w, which would make 80w total, but the card will probably pull between 90w and 120w depending on the mod, so I'm not sure if the molex adapter will be up to the job.
What do you guys think? I want to avoid having to buy another PSU if I can, since I'm trying to reduce costs/ROI time. I'm using 760W at the wall, so the PSU has plenty of juice left to give.
This is the adapter I'm thinking of getting: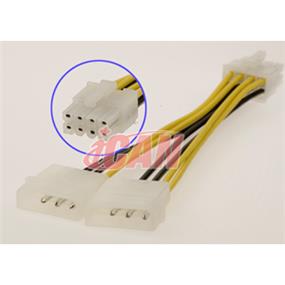 The other option is to use the GPU cables that split into two 8-pin connectors. Since I'm under-volting my current cards to 90W and one 8-pin should be able to handle 300W, I think I should be able to use one GPU cable to power two cards.