**Disclaimer, these numbers are in no way meant to be 100% accurate. The concepts will carry through to any real scenario, but these graphs are just examples!! **
There's no possible way to predict the future. Ethereum mining will hopefully be around for a long while. Please, before posting a comment, consider that I am on the side of potential miners. I like seeing people succeed, but I want to present some information that most people leave out or do not consider when building a mining rig.
I'm pretty new to this forum, but I'm not new to mining. It seems the users here are a healthy mix of GPU and other mining veterans (Ethereum or other), and some people who have no idea what they're doing. Hopefully this post will shed some light on the things new miners need to consider when planning out some kind of mining adventure.
Today I was doing some napkin math on two different scenarios for people just starting to mine. It's napkin math and I'm sure someone will comment on how I'm wrong. I'm not saying this will be 100% the case, but based on my very simple understanding of the direction Ethereum GPU mining is heading in this is the data I would present to a friend asking about the profitability of mining going forward. Of course this excludes people who have already seen their ROI. Also as I said my understanding of this topic is extremely simple and I do not have the knowledge of some of the people on here. Here is what I've come up with:
Please note that these scenarios assume that Ether will stay the same price for the next 3 months. This is highly unlikely and it could go up or down in a huge way. The data also assumes a 1% decrease in profitability per day due to the increasing difficulty. This is also somewhat unrealistic but it was the only way I could predict a decline in mining efficiency which is inevitable.
This first graph shows my predicted profit generated by a single standard R9 380. Running at ~22MH/s a single card will realistically generate about $3.00 US worth of Ether on your average pool. The decline reflects an admittedly steep and somewhat unrealistic "diminishing returns" style curve.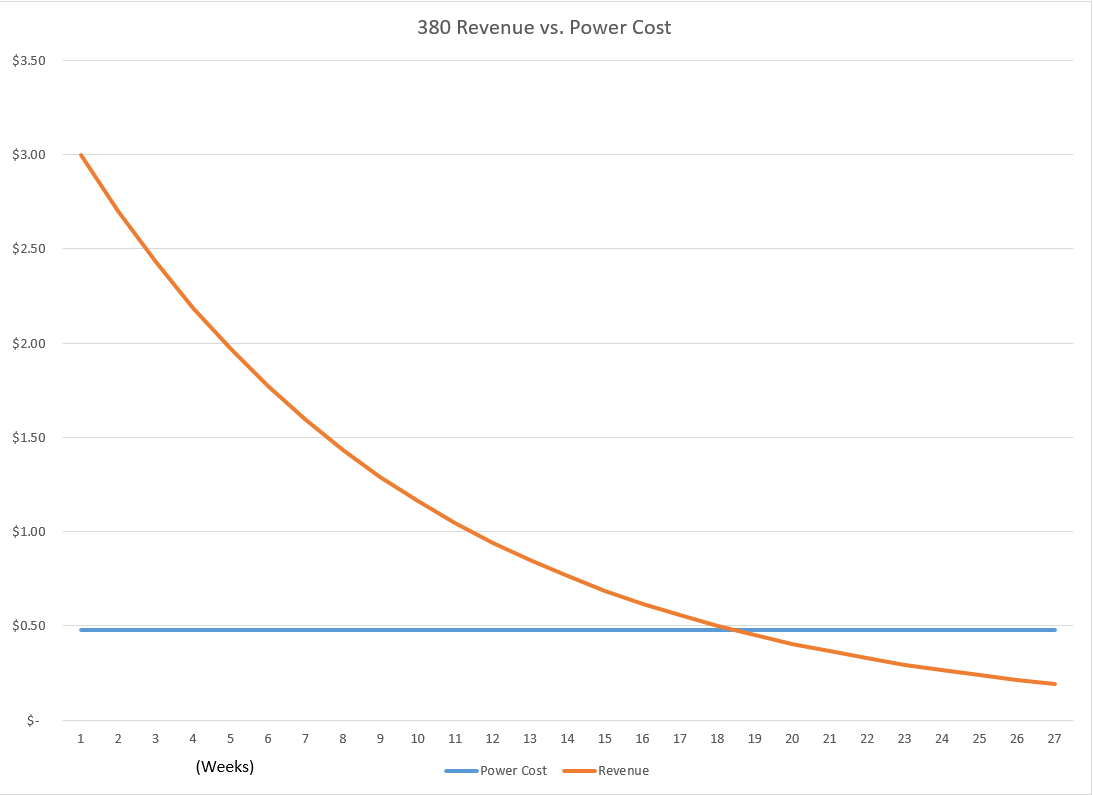 click the image to make it bigger, or right click and copy the image address into a new tab
I would imagine that the 380 will remain profitable much much longer than that but that data helps me explain the ideas in my next few graphs. The data on this graph is displayed over WEEKS instead of DAYS like the other two graphs
Scenario 1 involves a miner that thinks that by starting with a single card, they can offset the cost of purchasing more mining hardware over time. While this is a good idea in theory, and it very well may work, what is hard to visualize is the change in profitability due to network hashrate increases, next to the climbing hardware cost to keep up with said hashrate, and again next to the estimated resale value of the hardware to coincide with a ROI plan.
I know I'm not the best with words, but one of the most valuable lessons I learned 2 or so years ago is that dumping all your cash from mining into more gear isn't always the best idea. Thankfully I came out on top in the LTC game.
In short:
1. As the hash rate increases your cards make less money (assuming Ether price stays the same, which likely won't be the case but let's keep it simple)
2. To compensate for the hash rate increase you buy more hardware
3. Said hardware loses value for being "used" essentially putting you in the hole for the amount that is the difference between purchase price and resale price
4. Reduced revenue from each card makes it more and more difficult to break even on hardware
Here is a graph modeling this idea: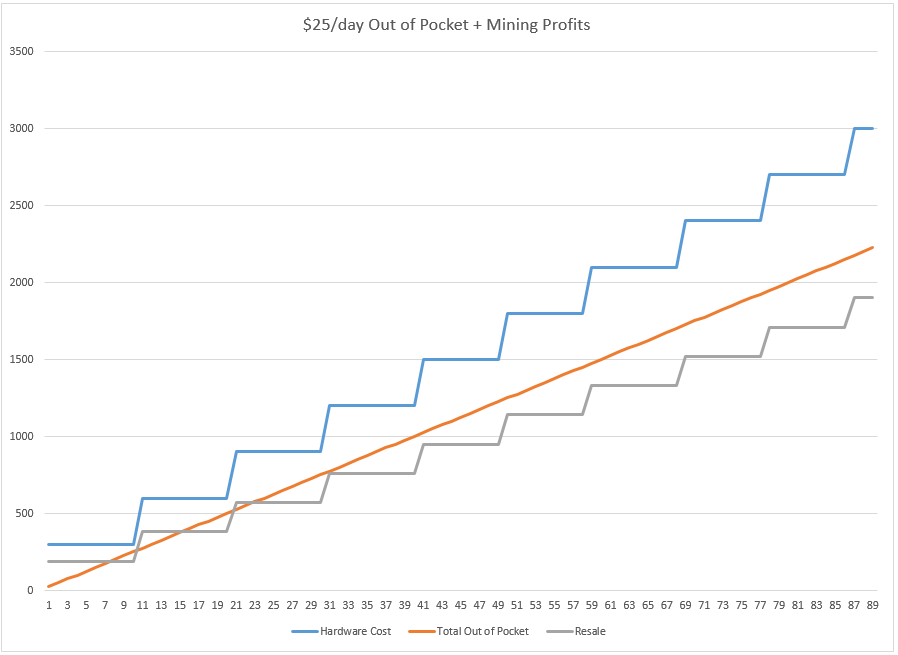 The orange line assumes the person is throwing about $25 per day out of their own pocket into the rigs for new hardware. The difference between the orange line and the blue line is the amount of money being made from mining, which is then being reinvested into new hardware. The gray line represents the growing resale value relative to the hardware being purchased. As you can see the last possible break even point is about 31 days in this specific scenario.
Now you could probably see a profit if you upped your daily investment to something like $50 or $75. I'm only referring to it as a "daily investment" because it makes the graph look nice and accurately shows where and when you could potentially break even or see a profit. It also shows how profitability declines relative to a steady investment/reinvestment into new hardware.
I mentioned increasing the "daily investment" to double or triple the amount modeled in the graph. This ties nicely into my second scenario which features someone who might have a chunk of cash to throw at a new mining setup.
Scenario 2 has a person with roughly $3,000 to spend on new rigs. I priced out 10x 380s with all the necessary hardware to run them. You could likely get this running a little cheaper or possibly add a 6th card to one of the machines if you play your cards right and find some deals online.
This scenario also assumes the person wants to resell the hardware at the end of all the mining. Day 1 shows $3,000 in brand new hardware less the estimated resale value of roughly $1,900. The graph includes estimated declining profit due to hash rate increase.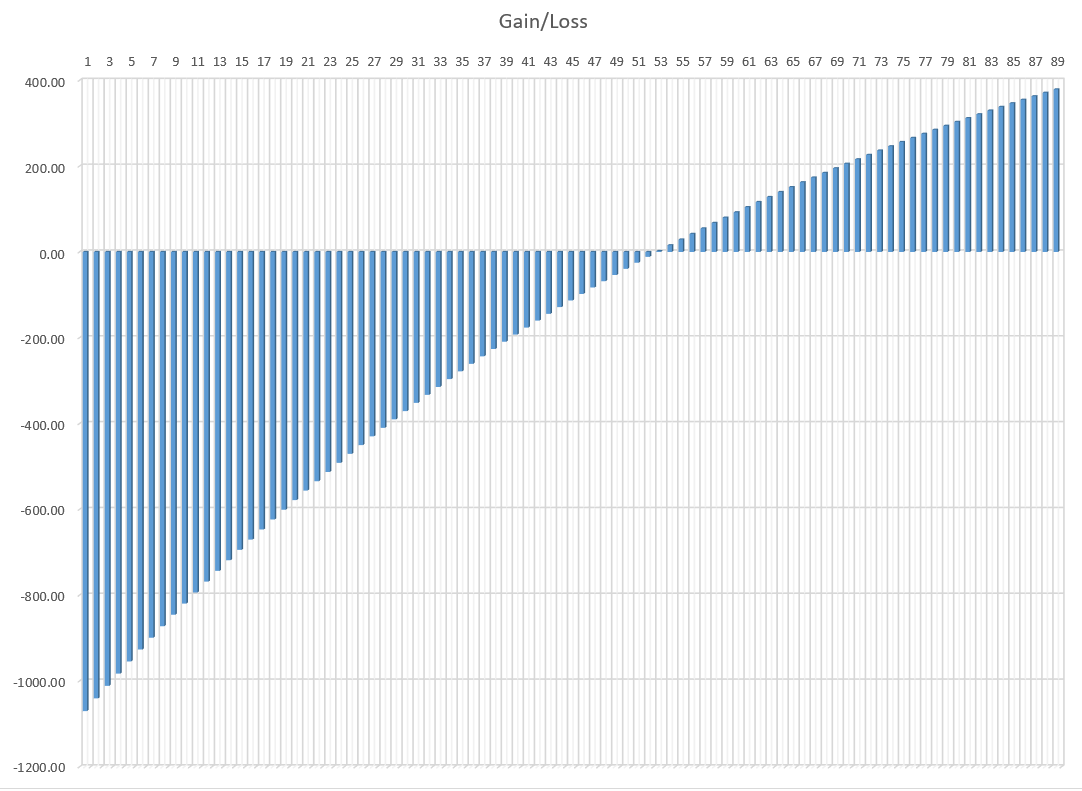 I hope this post was able to clear up some things for people looking to get a mining setup. I just got tired of reading posts from people assuming their 370 was going to make $3.50 for the next few months because some calculator told them it would.
Let me know if you have any corrections to any major issues I have with my scenarios. The whole thing is set up in a spreadsheet so I can remake those graphs with different data in a matter of seconds.