I've been keeping my eye on GPU coins for a while now and was happy to see one really take off again. It was time to build some new rigs!
We had access to a cab with 2x 30a 208v circuts at a local datacenter (on the cheap) and it was decided that it needed to be filled...
First, i decided to start small... a dozen 370s seemed like a good start
Having to fill cab space, i decided on using Gray Matter GPU cases. By far the cheapest (tho $500 is necessarily cheap) rackmount GPU mining option available. I have to say these cases while simple are EXTREMELY effective. The wind tunnel effect they produce is stupid and keep temps low even on heavily overclocked cards.
miningrigs.net/?product=graymatter-gpu-server-case-copy
12x MSI R7 370s from newegg
newegg.com/Product/Product.aspx?Item=N82E16814127886
H81 Asrock BTC Pro motherboard, a cheap Celeron CPU, 8 gigs of RAM, and a SSD (all x2) from newegg. Yes, you only need 4gb RAM and a 16gig SSD but i wanted something that at least had some resale value.
newegg.com/Product/Product.aspx?Item=N82E16813157471&cm_re=h81-_-13-157-471-_-Product
newegg.com/Product/Product.aspx?Item=9SIA1N83U90757
newegg.com/Product/Product.aspx?Item=N82E16820313531
newegg.com/Product/Product.aspx?Item=N82E16820178966
I had a stack of EVGA 1300w G2 power supplies from previous bitcoin miners so i just used two of those (which was overkill for the 370s) but these things are reliable and always have plenty of power.
amazon.com/EVGA-SuperNOVA-Crossfire-Warranty-120-G2-1300-XR/dp/B00COIZTZM
Turns out Bitmain sells the fans they use on their S5/S4+/S7 on their site. Having worked with them before and knowing the air volume they can push, fan selection was an easy choice. These being PWN fans also gives me the ability to control their speed through the mobo bios.
https://bitmaintech.com/productDetail.htm?pid=00020160105104607947aoAkWsJK06D0
And so the builds begin...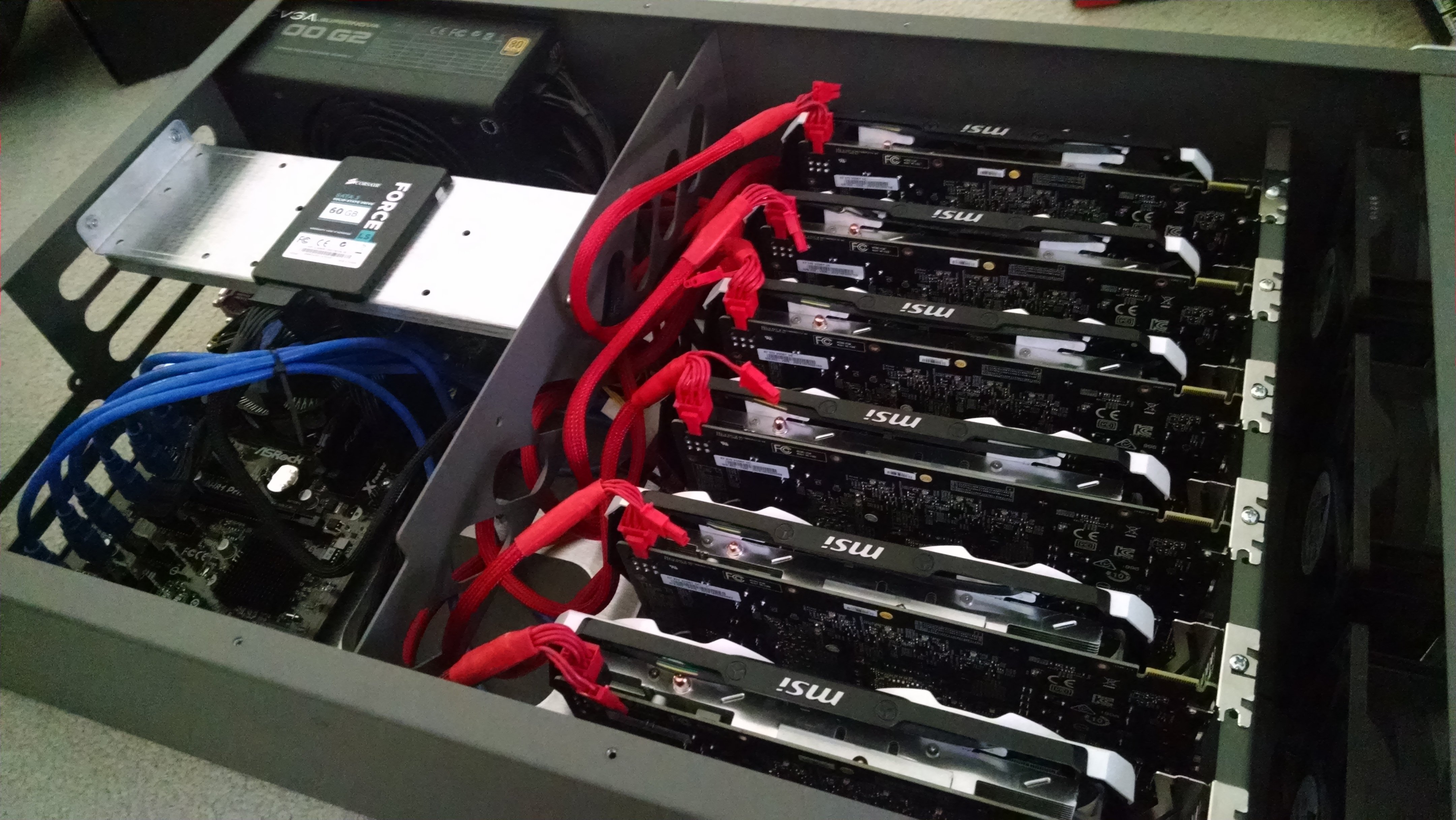 I started mining on Windows which worked fine but didn't allow me to set clock speeds. I then proceeded to build a unbutu miner which took some work and in the end worked well enough but just like with windows, i couldn't get it to set clock speeds or show GPU temps. Now granted, im a linux noob at best, so im sure that someone with the right skills could probly get it to work better.
In the end i went with genethos.
https://ethereum-mining.info/en/
Once you figure it out (changing the language from russian to english helps) it really is very simple and effective. Setting clocks is easy, gpu tems and status are at a click, and its rock stable.
After playing with clocks for a while i managed to get just under 16mh per card for a total of 95mh per rig. The killawatt reads ~800w at the wall.
In building the two 370 rigs, i had learned much about ethereum mining. It was decided that all future rigs be with 4gb+ cards (to avoid future dag size issues)
A MSI R7 370 4GB rig, a Sapphire R9 380 4GB rig, and a PowerColor R9 390 8GB rig followed.
newegg.com/Product/Product.aspx?Item=N82E16814127884
newegg.com/Product/Product.aspx?Item=N82E16814202166
newegg.com/Product/Product.aspx?Item=N82E16814131672
The 380 rig pulls 1250 watts from the wall and seems to be the best overall choice as far as price / mh, and optimal useage of the 1300w PSU. The 390 rig has 2 power supplies in it, a 1300w and a 750w. and pulls about 1800w from the wall.
The 370 4GB hashes the same as the 2gb version. The Sapphire 380s are getting 20mh each (they don't overclock well) for a total of 120mh.
The PowerColors get just under 30mh each. (currently 1 card down, had to RMA)
Here's a picture of 4 of the rigs in the cab at the datacenter.
I've since added 2 more Sapphire 380 rigs and a MSI 390 rig and have maxed out my power at the datacenter and have two of the new rigs running in the house... lol.
Current total farm:
6x MSI R7 370 rig - 95mh
6x MSI R7 370 rig - 95mh
6x MSI R7 370 4GB rig - 95mh
6x Sapphire R9 380 rig - 120mh
6x Sapphire R9 380 rig - 120mh
6x Sapphire R9 380 rig - 120mh
5x PowerColor R9 390 rig - 148mh
6x MSI R9 390 rig - 169mh
Total - 962mh