Yesterday, there has been a smear campaign on Twitter against our game,
CryptoDice
. We would like to provide content and insight to lighten and clear things up on our end.
On March 14, 2019, there was a player named Holv3k who reported a bug in CryptoDice through our community in Telegram.
In his message, he stated, "I have a serious issue I just played CryptoDice for the first time in a long time. I bet on single dice 2, and a combination of two other bets. Two was rolled and my spot I had a bet on the bottom row of 2 was flashing as a win. But it said I lost. When I went to the record it says I bet on 4, I absolutely did not bet on 4. This is fraud"
We have quickly responded by contacting him through a direct message to be able to communicate with him properly and as respect to other people in the community who are currently engaged in our mini-game Best Dot Hopper. We have asked for the screenshot of his game records so we could counter check with the Etherscan transactions.
Upon investigation, we have detected that the game results were right as it was and his bets were a loss. He placed bets on Total __12, Two Dice Combinations 1&4 and Single Dice Bet __2 and the dice results were 5, 6, and 3. This means that his bets were far from a win. It also did not state in the record that he placed bets on number 4, which he previously claimed.
CryptoDice is powered by Ethereum smart contract where transactions are transparent and easily trackable. Blockchain as its underlying technology also ensures that results can never be tampered with or manipulated even by developers.
We, on the other hand, apologized for the inconvenience of the apparent glitch in the game where he claimed (but without a screenshot or any form of proof) that the number 2 dice flashed as a win when it was not supposed to. This may be traced from the system updates that we have launched in our site, but this is an isolated case and we have already fixed the issue at this point.
Bugs like these happen in games, which is why all games have technical support groups where people can raise their concerns and we are thankful because these feedbacks help us improve and make our game better.
When we brought this finding up to Holv3k, he was not happy about it and without further explanation, he shut us off and accused us of being fraudulent.
He even went on to Twitter and using his account Henk
Holveck
, he released some
libelous statements
against us by calling us "fraud" and encouraged his followers to report us. He posted several comments about us, some of which have now been deleted: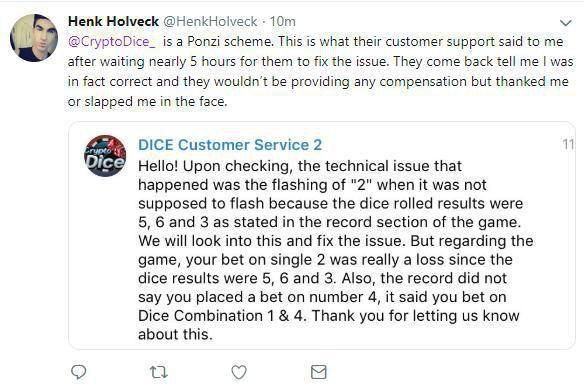 CryptoDice always ensures the integrity of our game. Results are always honest and all transactions are verifiable through
Etherscan
. We do not tolerate libelous acts and smear campaigns that would not do anything but put our brand, business, and integrity in jeopardy.
We thank everyone who supported our game from the beginning up to now. We would always do our best to keep improving and to bring you the best that we can offer.