[EtherCasts] Eris: The DAO Platform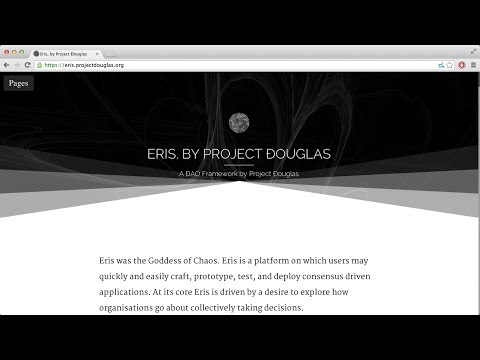 In this video Joris talks to Casey Kuhlman and Dennis Mckinnon of Project Douglas. They give a demo of their DAO Framework called Eris that they just released.
Eris is a platform on which users may quickly and easily craft, prototype, test, and deploy consensus driven applications. At its core Eris is driven by a desire to explore how organisations go about collectively taking decisions.
https://eris.projectdouglas.org/
https://github.com/project-douglas/eris
Support addresses for EtherCasts:
Bitcoin: 1FCD6yRnK4F8PHkS165ejCBxcSzRmgx6aS
Dogecoin: DUGKd7yJcxdZretg5CGSR3hEjv9YEQfxsA
Music:
Electrodoodle & RetroFuture Clean by Kevin MacLeod (incompetech.com)